What's Included
Unlimited pages with unlimited content; all of which are fully customizable.
210 Blog Articles
You have the ability to change your web site at anytime from anywhere with the easy to use site admin.
Over 10 preset pages with interchangeable content. You'll be ready for launch immediately!
Built in tools for customizing Your pages, including a fully functional graphics editor!
Instructional videos will take You step by step through the creation process.
Easily integrate YouTube Video into each page.
keyword optimization for search engines with better listing placement.
Google map will display Your business location.
.com domain name (ex. www.yourbusinessname.com).
Links to FaceBook, Twitter, MySpace & more!
---
Features
In the time it takes you to sign up for the Standard site, you will have a fully functional and staggeringly effective real estate web presence up and running! Your name, photo and contact information is integrated automatically into all site content. Here's a partial list of features:
Add additional information, (YouTube video, extra images/photos, extra comments), for any of your featured properties
Add unlimited, custom content
---
Pages include:
Home
Featured Properties

Single-Family Residential
Condos/Townhouse/Lofts
Multiple Family
Rental
Land/Lots/Farms
Vertical/High-Rise
Commercial
Auction

Search Properties
Foreclosures

Single-Family Residential
Condos/Townhouse/Lofts
Multiple Family
Rental
Land/Lots/Farms
Vertical/High-Rise
Commercial
Auction

Short Sale

Single-Family Residential
Condos/Townhouse/Lofts
Multiple Family
Rental
Land/Lots/Farms
Vertical/High-Rise
Commercial
Auction

Blog
Open Houses
Our Agents
Testimonials
Local Area Information
Mortgage Calculator
Mortgage Calculator Pro
Location Map
Contact Us
---
VIP Members

By selecting "Activate VIP", a lead-generating bar will appear at the top of your site that will allow buyers to quickly access and "add to favorites" the properties that they love. The "Favorites" list is an extremely useful tool, giving buyers a quick reference of the properties they've selected, and even a place to make notes about those properties. This feature will provide you with the e-mail address and phone numbers of those buyers, and will allow you to access their notes so that you can respond quickly to the buyers's specific needs.
IDX Search

Every property listing in your state marketing area literally becomes a part of your website. Having every MLS listing searchable from your site will give you an advantage over other realtors by way of higher ranking on the search engines. Each property listing will have your information, with your image. You become the agent to contact for every MLS search conducted on your site.
---
About
Easily and quickly update your profile
Customer testimonials automatically assimilated
---
Communities
Neighborhood profiles provided by Google Communities!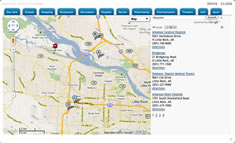 ---
Properties
Support for commercial properties for sale or lease
Add virtual tours
Add PDF documents
Request an appointment to view property
Add open house info
Slide show photo layout
Loan and amortization calculators
Email listing to a friend
Mapping by Google
---
Internet Marketing
APP

This is an exclusive App for Responsive Real Estate clients. The App provides real-time updates of your featured properties. When you submit your properties to the MLS, your FaceBook account will be instantly and automatically updated for you!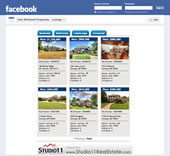 Visit Site
Google Analytics
Update Meta Tags for key web pages
Facebook
MySpace
Google
Twitter
Favorites
---
Photo Galleries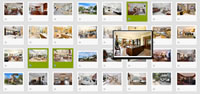 Bring your website to life with bold image galleries that capture the imagination. Whether your website is for business or pleasure, it couldn't be simpler to add, crop, rotate and resize your images to create a stunning gallery without ever leaving the online website builder.
---
XML sitemap setup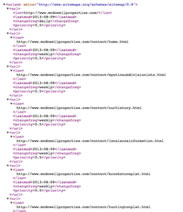 A sitemap is a file where you can list the web pages of your site to tell Google and other search engines about the organization of your site content. Search engine web crawlers like Googlebot read this file to more intelligently crawl your site.